Finally, Fall has arrived in the Blue Ridge mountains of North Carolina. Around here, it seems to be everyone's favorite time of year, including mine. We've been waiting patiently for this much-needed reprieve from the unusually hot and dry summer we've had in these parts. The leaves are just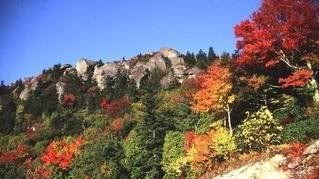 starting to turn, the days are warm, and the nights are down right chilly. The cool temperatures seem to wash away the summer haze and now several more layers of distant mountains appear in our views. I appreciate the beauty of the land here at any season, but there's no question that this is the High Country's "last fling," and you just don't want to miss it if you can help it. Excitement is in the air with this turning of the season. Travelers from near and far seem to descend on these mountains at peak summer levels to catch a glimpse of our brief but glorious "leaf season." There's also the 30th Annual Woolly Worm Festival this weekend in Banner Elk. Another big event is the Carolina in the Fall music festival in North Wilkesboro hosted by the Kruger Brothers, an amazing Bluegrass band from Switzerland who actually moved here a few years ago. Take a listen. Or, you can pick a pumpkin, take home some local apples, and find other Fall goodies at the Watauga County Farmers Market.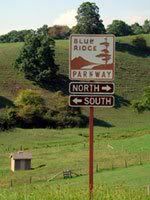 There is no better way to drink in the rainbow-colored landscape than to take a drive on the Blue Ridge Parkway. This incredible stretch of road, begun in 1938 and completed over 50 years later, is one of America's most scenic drives. The 45 mph speed limit throughout guarantees a pace that's perfect for viewing the scenery and the abundant wildlife.


It's hard for me to pick a favorite section but if you can spend a day, (or a weekend) I wouldn't want to miss the drive just to our North. From Blowing Rock, its probably a leisurely two hour drive up through Ashe and Alleghany Counties to to the Virginia line. In that stretch you'll see Cumberland Knob, where construction for the Blue Ridge Parkway began, Doughton Park with its 7000 acres to explore, the Churches of the Frescoes in Glendale Springs, and Thistle Meadow Winery near Laurel Springs. (not necessarily in that order!) I love this section as it has a great mix of both mountain and pastoral views, plus it's much less traveled than the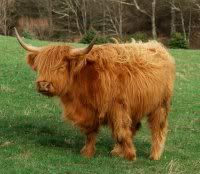 section that heads South from here. One last thing to keep your eyes out for if you travel through Ashe County is Omni Highland Cattle Farm which backs right up to the eastern side of the Parkway. These beautiful (at least I think they are) animals can be seen grazing peacefully. Although the farm isn't open for tours, you might pull off and sneak a picture or two!


Now if you head South from Blowing Rock, you can spend a day or even a whole weekend exploring the short distance between here and Linville. Just a few minutes down the road, Moses Cone Memorial Park has fantastic hikes and trails,

plus the stately mansion Flat Top Manor which now houses a rotating craft exhibit sponsored by the highly touted Southern Highland Craft Guild. No trip to the High Country is complete without a trip to Grandfather Mountain and the realized dreams of the legendary environmentalist, photographer, and naturalist Hugh Morton who passed away just last year. Too much can be written about the Mountain and the Man so a future blog is in order. Finally, the area in and around Linville , including the unique Linville Caverns, and famous Linville Falls. Although the area itself has gotten a bit touristy (folks flock for a reason), the Linville Gorge Wilderness Area, sometimes called the "Grand Canyon of the East," offers some of the most remote backcountry hiking and camping in the Southeast.


There is certainly no shortage of great Fall activities spanning the entire

High Country area. Now I'm scratching my head trying to figure out what I'm gonna do. My only advice is to not try and do it all, but to see what you can and savor the moment. Winter will be upon us before you know it. "And the seasons.....they go round and round.